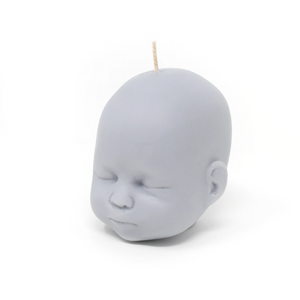 Grey Baby Doll Head Candle - Bergamot & herb scent.

It's creepy, it's cute and a little macabre-Baby Doll Head Candle.

Made from soy wax, Vegan-friendly.

The perfect creepy quirky gift for anyone who loves unique home decor. 

Grey in colour with kitchen witch Bergamot & Herb scent.

Approx size: H8cm xW7cm.
Please note there may be slight variations in colour due to this product being handmade.
Safe to burn, must be placed on a heat resistant surface before lighting.

Other Doll Head Candles & pots also available.

Handmade in the UK by The Blackened Teeth. 

This is not a toy and it not suitable for children.

Gothic candle creepy doll head candle memento Mori haunted doll wax candles.