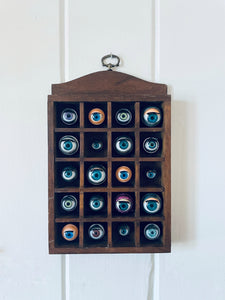 PLEASE NOTE- Please choose courier shipping for international delivery.

A curios display for your home.

Featuring 20 blinking doll eyes in a range different sizes, colours & materials mounted in vintage wooden display case.
Ready to hang on the wall.
Approx 21cm tall (without hook) x 14cm wide 

One of a kind curious dark home decor made with real doll eyes. Includes some rare and unusual eyes!
Eyes can be touched to make them blink.
Please note that the wooden frame does have imperfections due to age.
This is not a toy and is not suitable for children.