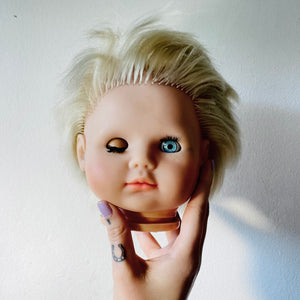 Winking Wendy- She's often winking  
 Wendy is a more or a modern gal, but I liked her little dodgy eyes so couldn't leave her behind! 


- Wendy tries to eat chips for tea every damn day, so please keep an eye on that.
-Got expelled from school for throwing stink bombs in the boys toilets and blaming it on her brother
-Once held her breath underwater in a swimming pool for 3 minutes when she was on holiday in Spain. 
Please note this is a vintage toy part and will show signs of wear/ aging/damage. This listing is for the doll head only.
Obviously, description is for humour only, this is a plastic toy and does not have real hobbies.
Not suitable for children.